What Are People Saying
Bauer Community Center
Summer is officially over so I thought I would share the great success we had with the curriculum that we were able to purchase with Lafayette Life funds for the kids! Our programming this summer was different than it has been in the past and the feedback from both the kids and parents raved about the changes. As a result of the changes, we were able to increase our programming numbers significantly. We saw over 200 different youth at our drop-in programs this summer and provided close to 25,000 hours of service to the youth in our community. This allowed us to provide a wide variety of types of programs for our youth to participate in including multiple STEM components, Service Learning, Dramatic Play, Sports and Recreation and Literacy just to name a few. We were able to continue to offer all of our programs and services free of charge and continued to provide meal and snack service every day.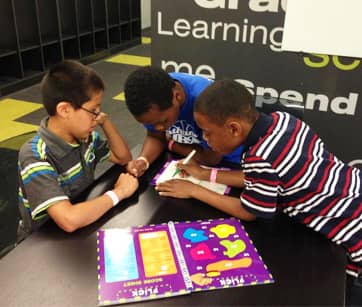 According to one of our Youth Workers who over saw the 3rd and 4th graders KidzMath program, "Youth were more engaged in these activities far more than I ever expected. A lot of the activities had the kids up and moving or involved some sort of healthy competition which they all loved. The 3rd and 4th grade group practiced a lot of multiplication which I never imagined would be something they would enjoy as a summer activity. The program also fostered teamwork and self-esteem. On one occasion in particular, one of the youth that was much more confident and stronger in math volunteered to partner with two of the more shy and introverted boys and played the math games for the day with them for the entire hour. He was helpful and supportive without being bossy or looking down on them in any way. It was great to see that something as simple as a math game could support other life skills."

This is just one of the many stories of how lives were changed at our Community Center over the past several months thanks in part to the support from Lafayette Life. We are committed to providing enriching experiences to at-risk youth in a safe and secure environment at no cost to the families. This is not possible without donors like you! Thank you again for your continued support!
- Lauren Gilmore, M.S., Communications Specialist
Family Services, Inc
Children cannot come to the therapist's office and tell their therapist in words what is troubling them. Play is their language and toys are their words. The play therapy toys you provide literally give children the words they need to tell us what is troubling them!

A child cannot tell his therapist that he is afraid of angry feelings – but he can show the therapist that the 'bad soldiers' came into the family home. The therapist can 'hear' the child's feelings by letting him know that this experience is scary and together they can get help.

A child cannot tell the therapist that she is worried about mom and dad, but she can show the therapist that the grown up animals have to be saved by the babies in the zoo. The therapist can 'listen' to the child and show her that babies should look for help because grown-ups are in charge of grown-ups.

A child cannot tell the therapist that they feel small and not important, but he can show the therapist that he can build a tower and the therapist can talk about the child's ability to be in charge of their own strength and their own thoughts.

It's a bit difficult to put into words how children use their play to 'talk' to their therapist. However, the importance of clean, safe toys which are varied and sturdy enough to be used each week for children's communication cannot be stressed enough. Thank you so much for your generous grant which is enabling us to expand/upgrade the toys which our young clients rely upon to "tell us" what they need.
- Annette Brehm, LCSW, Clinical Social Worker
Thanks to the grant provided by the Lafayette Life Foundation we have been able to purchase more play therapy toys allowing us to serve more children and families. Thank You!
- Lisa Marie Lucy
"With the BabyTalk book grant from the Lafayette Life Foundation, Family Services helps with both early literacy and parental bonding as parents can hold their newborn close while reading to him/her. Family Services is able to reach families before most programs can–within a day of the birth of their new baby."
- Tony Johnson, Chief Financial Officer
Homestead CS
The Lafayette Life Foundation has been a wonderful partner to our efforts to help homeowners avoid foreclosure. The Foundation is great to work with and seem to really take an interest in our programs. With their help, in the last 2 years alone, over 1,200 families have been educated on their options to foreclosure.
- Marie Morse, Executive Director
Mental Health America of Tippecanoe County, Inc.
The Lafayette Life Foundation grant has greatly benefitted the MHA, and in turn our entire community. They were one of our first funders to support the startup of "Mental Health First Aid," an 8-hour certification course focusing on mental health issues and a 5-step action plan to use in a crisis situation. They recognized the need of this important program, provided essential funding, and they were a pleasure to work with. Thank you Lafayette Life Foundation!
- Jennifer Flora, Chief Executive Officer
Tippecanoe County Imagination Library
The vision and financial support of the Lafayette Life Foundation was critical to the continuing expansion of the Preschool Literacy program in Tippecanoe County. Through their support we were permitted to register several hundred more children for a book sent to their home once a month until their fifth birthday.
- Stan Mithoefer
Leadership Lafayette
Leadership Lafayette has 1202 graduates with approximately 800 alumni still residing in the area who serve more than 75 community organizations. Financial support from the Lafayette Life Foundation helps to keep our Community Leadership Program tuition at half the cost of actual program delivery and makes it possible for many who might not have otherwise been able to afford to attend have the ability to participate and strengthen our community through their service.
- Kitty Campbell, Executive Director
Food Finders
Thanks to the Lafayette Life Foundation, Food Finders will be able to continue providing vital nutritious food to our community's seniors struggling with hunger. We are so grateful for the leadership and dedication of the Foundation in awarding us this generous gift.